Career & Technology Studies
Career and Technology Studies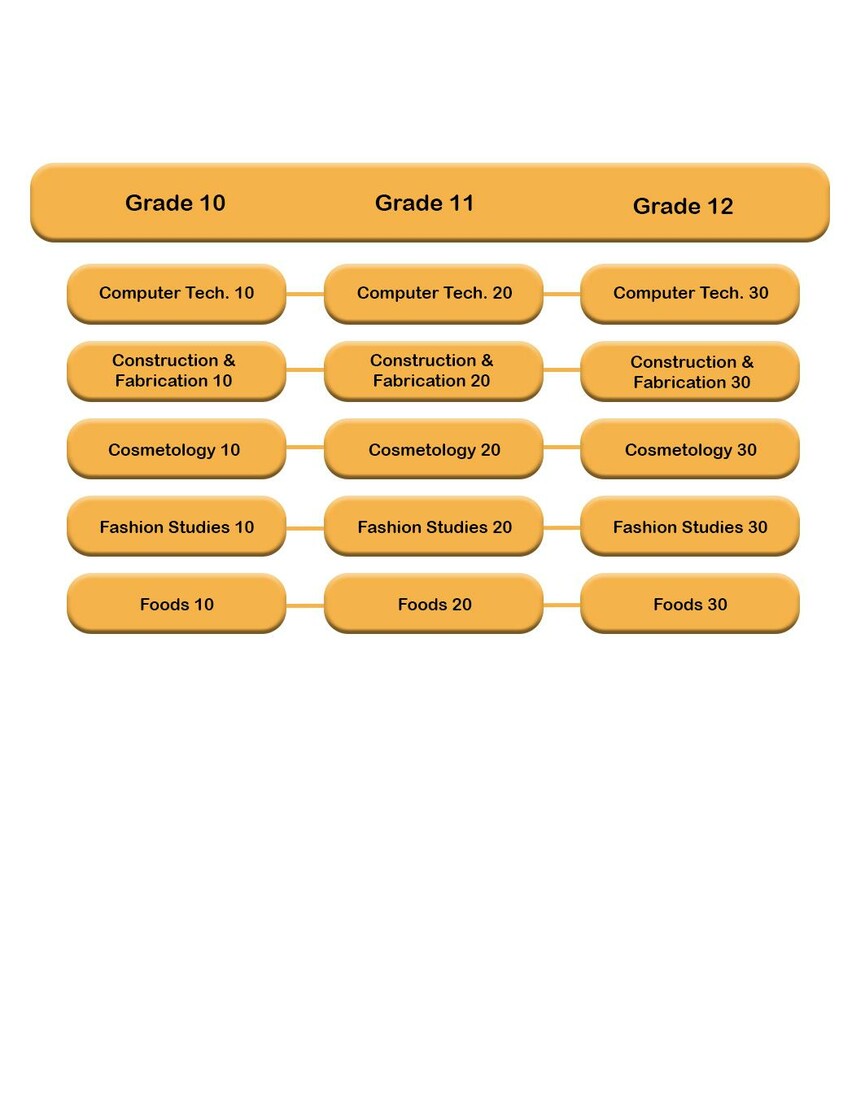 Career & Technology (CTS) courses at SACHS encourage students to investigate career opportunities and to pursue interests using a "hands on" approach. These courses are designed in collaboration with industry experts to provide practical skills using advanced technologies.

The CTS Department boasts a foods lab, fashion lab, woodworking lab, and welding (fabrication) lab, a multi-purpose lab for digital design, animation, audio and video editing, as well as for computer programming and game design.
Career & Technology courses provide:
Career direction
Preparation for a career choice
Work experience
Advanced document preparation and research skills for post-secondary education
Practical, lifelong skills
Each CTS course is comprised of several modules, where a credit is assigned to each successfully completed module.  Marks are assigned when the entire course has been completed.
Communication & Computer Technologies
This program is designed to be individualized allowing you the flexibility to choose your own path. Introductory modules allow students to explore areas of interest and see where their passions might lead them. CCT is broken down into the following paths:
ROBOTICS: BUILD AND PROGRAM A VEX CLAWBOT
A little but like Lego but way cooler.  In grade 10, students begin by building and programming their own VEX Clawbot.   In grades 11 & 12, students will design their own robot based on what they have learned in prior grades.  There is an opportunity to compete with your VEX robot in the NAIT robotics competition.
FILM/VIDEO: WRITE, PRODUCE, AND DIRECT YOUR OWN FILMS
Learn to edit, use special effects software and gain experience with sound and recording techniques.
Students may also try stop motion with lego or claymation.
GRAPHIC DESIGN: LEARN TO COMPOSE IMAGES AND CREATE YOUR OWN GRAPHICS
Design advertisements, logos, manipulate images and create industry-based projects (posters, brochures, album covers and magazine spreads).
DIGITAL MEDIA DESIGN: CREATE YOUR OWN PERSONALIZED STICKERS, T-SHIRTS AND MORE
Create personalized projects using elements of graphic design. Learn to print vinyl stickers and design custom t-shirts.  ***There can be additional costs for t-shirts and vinyl depending on the project.***
Construction & Fabrication Technologies
Have you ever wanted to take a class where you get to decide what you want to learn?  Then Construction and Fabrication is for you!  Not only do you get to decide what skills you want to learn, but you get a say in what projects you get to create along the way!  As you level up your skills you are awarded new and exciting opportunities to choose your own projects, further improve your skills, and create your own adventure making this course truly about you!
CONSTRUCTION: YOUR ONLY LIMITATION IS YOUR IMAGINATION!
Do you want to explore the world of woodworking? Do you want to learn how to operate a table saw?
A compound miter-saw? A jointer? Do you want to learn to use modern and traditional joinery techniques like pocket holes and box joints?
The construction technology program explores traditional hand and power tool woodworking
techniques typically used in the building of cabinets and furniture.  Starting with simple hand tools and working our way up to the major power tools like the Table Saw, you will be mentored to increase your skills, self-confidence, and independence.  
The main focus of this program is the development of woodworking skills.  Use of Mitre Saws, Lathes, Table Saws, Jointers, Planers, etc. will all be encouraged to assist in the creation of our projects.  Traditional joinery techniques mixed with modern technology and skills all serve to help you be successful in any direction you choose to go.
This is a lab based course with students completing projects that are designed to build their craftsmanship in a logical sequence.  At all levels of this program, students will be required to complete pre-requisite projects to ensure that core skills are in place. Once these required projects are complete, students may build additional projects of their own choosing.  A mature, team- oriented and goal-driven attitude is essential for success in this program.
FABRICATION: LET THE SPARKS FLY!
Students will create and assemble parts and projects in a shop environment using current industry equipment and techniques.  You will learn a variety of metal working skills which include  ARC and MIG welding techniques.  You will also explore cutting and shaping metal  throughCNC, Plasma, and Oxy Acetylene.  In addition to working primarily with metal all students will gain basic skills in construction such as shop safety, measurement, application of math, and project planning and layout.
Similar to Construction, students will produce meaningful projects and have the opportunity to design and construct their own projects as their skills progress.
MECHANICS: HAVE YOU EVER WONDERED HOW YOUR MOTORCYCLE OR LAWNMOWER WORKS?
Modules in mechanics will help you build the skills to repair and maintain your toys and tools at home. Students will have the opportunity to explore basic mechanical systems such as engines, fuel systems, fluids,brakes, electrical components, etc. in order to gain the confidence and skills to diagnose and repair small problems on vehicles and equipment around them. Although automotive mechanics will not be explicitly covered, the skills learned working on small engines are easily transferable.
*Students must provide their own engine or small vehicle (ie. Lawn Mower, riding tractor, scooter, etc.) and are responsible for all parts costs.
Cosmetology
SACHS Cosmetology offers students at all levels a unique environment that combines a classroom within a fully equipped salon where students put learning into practice on mannequins and/or clients, complimenting their learning and making for what is 'simply a SACHS salon experience.
COSMETOLOGY 10
Are you interested in hair, nails and/or makeup? Then come have fun learning about the art and science of beauty care. In this introductory level students will learn skills to do make-up, manicures, create long hair looks using braids, twists and knots and learn to shampoo, blow-dry and style hair just like the professionals do in the salon.
COSMETOLOGY 20
Now you are ready to build on your salon practices at this intermediate level! Learn skills to perform haircuts, apply hair colors and create up-do styles using advanced long hair techniques. On client service days students will have the opportunity to bring in family and friends as clients and put their skills to practice in SACHS real salon setting.
COSMETOLOGY 30*
It's time to refine your skills at this advanced level and gain deeper insight into the salon/beauty industry as a potential career. Learn advanced skills in haircutting and coloring including bleaching, hi-lighting and other special effects. Students will have the chance to really hone their skills in SACHS real salon setting on client service days.
*Scholarship opportunities are available to Cosmetology 30 students.
Food & Fashion Studies
Foods class is about learning how to store your food safely and learning new cooking skills.  You will start with basic skills in Foods 10 and build on those skills in Foods 20 and 30. Through Foods 10, 20 and 30 we incorporate a variety of cooking techniques including baking breads and baked products, making basic sauces and soups, stir frying, deep frying, oven baked meals and so much more!
FOODS 10 (3 Credit)
In Foods 10 you learn basic cooking skills to set you up for success with cooking at home.  You can expect to cook about half of the time in class.  You learn about how to keep food safe to eat, basic knife skills, how to prepare basic foods and learn about basic food nutrition and how food fuels your body.  You will learn how to cook on a stove top, microwave and oven.  You will learn how to make  quick bread, cupcakes, cookies, muffins and more!  You learn basic cookie and cupcake decorating skills that you can later build on.  You also learn how to make yeast bread pizza dough, tacos at home, cream sauces and other quick everyday meals.
FOODS 20 (5 Credit)
In Foods 20 you expand on our knowledge from Foods 10 and learn more advanced food preparation techniques. You learn how to incorporate convenience foods into your meal planning to keep things easy to prepare at home.  You will learn to decorate a cake, make and decorate a foam cake, enjoy cream puffs and other more advanced desserts.  You will get to experience foods inspired by different cultures from all around the world and learn cooking techniques from other cultures.  You will enjoy learning how to make flat bread, loaves of bread and buns.  You can expect to cook about three quarters of the time during class.
FOODS 30 (5 Credit)
Foods 30 teaches you advanced cooking skills that you may not have tried before.  We learn to make delicious baked products like donuts, advanced cakes, bagels and complex bread products.  We also focus on learning about how to change and adjust flavors building on techniques learned in Foods 10 and 20.  You learn to make pasta, spring rolls and other delightful treats.  We also learn more about plating food and how to make our food look as wonderful as it tastes.  Students in Foods 30 can expect to cook more than three quarters of the time.
Students in Foods 30 can have the opportunity to build a program to your interests as well.  This approach means planning, creating and building a program for you. Students that choose to build a program, spend most of their time cooking in the kitchen and evaluating their products.
FASHION STUDIES 10 / 20 / 30 (3 Credits each)
Interested in fashion studies and learning to sew? Students have the ability to combine Food Studies and Fashion Studies based on their interest. You can learn basic sewing skills to make something simple or mend a garment. You can learn to quilt, cross stitch, knit or crochet. You can also explore the world of fashion design and sketching, creating your own garments and tailoring.
Fashion Studies is based on your interest to build a program that you want to complete!
Provincial Skills Competitions
SACHS STUDENTS ARE SKILLED. Students have the opportunity each year to showcase their talents at the annual Alberta Provincial Skills known as the 'Olympics of the Trades'.  Students who demonstrate a strong level of interest and skill can compete in different areas including Baking, Culinary, Construction, Hairstyling, Job-Skill Demonstration, Job Search and various others trade and technology related events. As a school community, SACHS is proud to be part of the 'Skills Movement'.  
The Skills Competition from a SACHS Grad
Sienna Poliquin, SACHS Graduate, June 2019
SACHS cosmetology was the stepping stone to my career and absolute love for hair. I have gained so much passion and confidence through the program. It gave me the opportunity to compete in the Alberta Provincial Skills Competition. After High School I was accepted into a Hairstyling Program
at a college in Edmonton where the skills I gained in Cosmetology class propelled my training and allowed me to complete their Fast Track Program. With my training almost complete I am prepared and excited to start my career in a salon as an Apprentice in February 2020. I highly recommend joining the SACHS cosmetology program. Whether or not you decide to pursue it as a career, you learn so many skills that you can use in your everyday life.