Football
Skyhawk Roster 2021
| | | |
| --- | --- | --- |
| # | Player Name | Grade |
| 1 | Emric Cadieux | 11 |
| 3 | Dominic Savinkoff | 11 |
| 5 | Nico van Berkel | 11 |
| 6 | Emily Krause | 10 |
| 7 | Jacob Wiwchar | 11 |
| 10 | Thomas Duncan | 12 |
| 12 | Maddox Orkusz | 10 |
| 13 | Ben Muir | 10 |
| 14 | Elgin Nguyen | 11 |
| 15 | Reece Foote | 11 |
| 16 | Mason Clayton | 10 |
| 17 | Ethan Vandegriend | 11 |
| 18 | Cole Scott | 11 |
| 20 | David Kociuba | 12 |
| 22 | Everett Ross | 10 |
| 23 | Kaylan Wiseman | 11 |
| 24 | Justyn Baniak | 10 |
| 25 | Jaden Clancy | 11 |
| 26 | Connor Tyson | 11 |
| 27 | Mason Deutsch | 11 |
| 28 | Carter Illner | 11 |
| 34 | Adam Kociuba | 10 |
| 45 | Rowan Weatherbee | 10 |
| 52 | Tristen St. Pierre | 11 |
| 54 | Evan Jamieson | 11 |
| 55 | Jacob Shank | 11 |
| 60 | Tate Lysohirka | 11 |
| 63 | Brett Letwin | 11 |
| 64 | Joseph Callbeck | 10 |
| 65 | Kristoff Baniak | 12 |
| 66 | Brandan Rauf | 11 |
| 68 | Braeden Patterson | 10 |
| 75 | Tavis St. Pierre | 11 |
| 76 | Jordan Rivero | 10 |
| 77 | Jordan Terrasi | 11 |
| 80 | Carter Hunt | 11 |
| 81 | Thea Savoie | 11 |
| 82 | Jakob Reiniger | 11 |
| 83 | Hayden LeBlanc | 10 |
| 90 | Brody Schmermund | 11 |
Skyhawk Football 2021 Season - Camp Dates
Monday, Aug 16 – Thursday Aug 19:
2 practices per day at  10 - 11:30 am   and   4 – 5:30 pm
Fri., Aug 20, Sat. Aug 21 & Sun. Aug 22: OFF
Mon. Aug. 23 – Friday Aug. 27:    4:30- 6 PM at SACHS
Sat., Aug 28;  Exhibition/Jamboree or Scrimmage:  TBA
Monday, Aug 30th - 4:30- 6 pm at SACHS
SKYHAWK Football
We are lucky at St. Albert Catholic High to have two of our coaches, also be teachers on our staff.  Mr. Sam Johnson and Mr. Dean Neumeier, their hard work and dedication is greatly appreciated. Having teachers, that are also coaches, allows us to keep an eye on, help and encourage our student-athletes. The academic performance of our student-athletes is our primary concern.
St. Albert Catholic High is the ONLY St. Albert School to ever qualify for a Provincial Final Game in Football.  * 2nd Place, Edmonton Metro Carr Conference    
The SKYHAWKS are the ONLY TEAM from St. Albert to qualify for the Provincial Playoffs in 2011 & 2012
* 2011 Northern Alberta Football, Tier III Finalists: Victory over Peace River 34-14 (Northern Semi-Final)
* 2012 Northern Alberta Football, Tier III Champions: Victories over Peace River 49-21 (Northern Semi-Final) and St. Paul 52-10 (Northern Final)
* 2012 Provincial Tier III Finalists 
Skyhawks at the Next Level!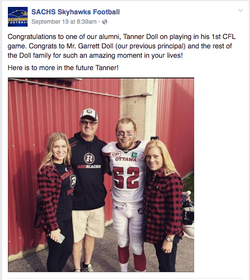 Click link above to see a list of Alumni and what they are doing!
What does it mean to be a SKYHAWK?
What Does It Mean To Be A Skyhawk?
To be a Skyhawk is not a simple thing. It means to be held to a higher standard than the average student. Our motto is to produce the best person, student and athlete that we possibly can. When you become a Skyhawk, it becomes less about you and more about us.
To be a part of this program, you must always do your best in the classroom. That means attending all classes, completing your homework and striving to be a positive influence on others.
To be part of this program, you must act appropriately outside of the classroom. That means you are expected to be kind and respectful to others, not to partake in behavior that would embarrass yourself or the program. You are expected to act like a young adult, a shining light in the community.
Playing football is not easy. Playing football for this program is even tougher. If playing for this program was easy, everyone would do it. It is a privilege to play for St. Albert Catholic High, not a right. Treat yourself, your family, your school and the program with the respect that they all deserve.
FB CORE COVENANTS - We are HAWKS!
FB GENERAL PHILOSOPHY 2016 - Team Handbook